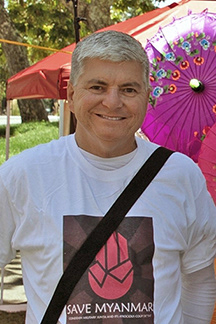 Burma Photo Documentary:
The photos in this section of the website are from my numerous visits to Burma over the last 12 years. The country's beauty and the kind and generous people inspire me. The experience lead me to photo document the cultures, traditions and architectural heritage buildings found throughout the country. Sadly, the military coup has brought my future travel plans to an abrupt end.
Burmese organizations in the San Francisco Bay Area organize weekly demonstrations. In the next few weeks, a new section of this site will display images that I photo document for the community.
Urban Architecture
:
In this section concentrates on architecture. The changes taking place in architecture is an area of concentration that I have been interested in throughout my career. The patterns, symmetry and creativity captivate me on many different levels. I strive to share my observations by taking images that offer perspectives not typically noticed.
Background:
Over the last several years I have worked on 19 independent films as a still photographer. My work has appeared in movies, books, on posters and in promotional materials. Prior to 2007, which is when I began focusing exclusively on photography, I spent 20+ years in publishing at magazines (PC World and Macworld), and newspapers (San Francisco Chronicle and Los Angeles Times).
I am honored to be listed by CBSsfbayarea.com as one of the top-five San Francisco Bay Area photographers to follow on Instagram.